Information



The new Schüco Docu Center iOS app
In addition to the improved loading time when launching the app, the new offline mode in particular ensures more stable and reliable handling – when it is activated, all previously loaded documents continue to be available even without an internet connection. Additionally, the software also comes with a new innovative drawing function. The newly integrated QR code scanner connects the analogue and digital worlds. Simply "scan" a Docu Center QR code on a printed manual page to call up this page in the Docu Center app.

New features in Docu Center web
The previous windows/doors category has been removed; there are now two separate categories.
The new "feedback function" is also now active. All Schüco Docu Center users can provide feedback for any page in the manuals directly in the application. Every query is then processed by the editorial team and the status is subsequently communicated to the user.
In the latest version, all references to K drawings are linked. This is a huge benefit when working with fabrication drawings. Simply click on the reference and the required page is immediately opened up and displayed.
Mobile – available at anytime anywhere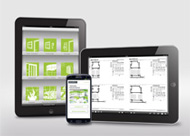 The Schüco Docu Center Mobile App has been designed for smartphones and tablets with iOS and Android operating systems and is always the first choice when on the move, e.g. on construction sites or in sales meetings and consultations.
You can easily view and leaf through the Schüco product documentation or download it to your mobile end device, making it available even if there is no network reception.

Download from the App Store
Download from the Google Play Store
Contact & help


Do you have any questions about the Schüco Docu Center or the Schüco Docu Center App?
We would be happy to help if you have any questions, problems or suggestions, and will refer you to the relevant contact person.

Contact

The Schüco Docu Center Team
Tel.: +49 521 / 783 72 22
docucenter@schueco.com

We look forward to your enquiry.